PPP4SDI - EU Industry Day
Public-Private Partnerships for Spatial Data Infrastructures in the
Context of E-Government
December 6-7, 2007 – Rome, Italy
University Roma - La Sapienza, Piazza Borghese, 9
Setting up the IHLET Social Cadastre
IHLET Kht. Dr. Attila Molnár, GI consultant Béla Jarolics
Goal of the project
Architecture
Database
Solution
Standards, communication
Metadata
Security
Connection
Goal of the project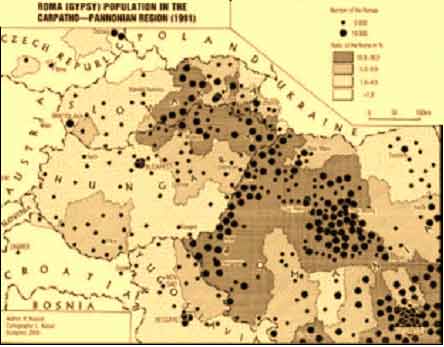 Development of the GI based information system for the 48 IHLET Office's.
Pilot project is ready.
Possibilities of neutral information technologies in one multinational information system.
Design of an objective data capturing and management system.
Management of the datasets on the local level.
Support of the NSDI, ESDI (metadata, INSPIRE).
The project objectives are relevant for accessing various kinds of EU Funds.
National GI Infrastructure is being strengthened in the region.
Focus is on regional scale and adding value.
Tools and GI information are becoming more common.
Synergy with others is a key condition.
Addresses the needs of the socially excluded.
Architecture: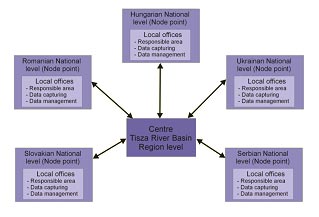 The GI infrastructure will be managed on three levels.

Centre - Tisza River Basin Region level.
Node Points - National.
48 Local Offices - Association at NUTS4 level.

The pilot GI system is able to manage the datasets in the three levels.
The solution is based on server-client applications.
The capture and update of the local datasets is on the local level.
The Region and National level is in the centre.
Database: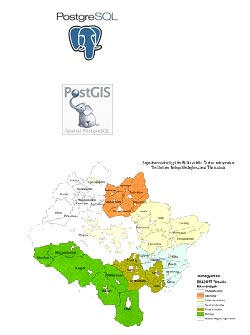 Pilot datasets
Store the GI and alfanumerical datasets
Shared databases
Based on SQL server technology
GI datasets
Spatial indexed datasets -> PostgreSQL (PostGIS)
Alfanumerical datasets
PostgreSQL
Centre - Tisza River Basin Region level
Aggregated and generalized data
Data to cover gaps of the national GI infrastructure
Added subjects: environmental, economic, social
Meta data
Node Points - National
Aggregated and generalized data
Access to relevant national level thematic maps
48 Local Offices - Association at NUTS4 level
Local large scale data: cadastre, utilities, urban planning, etc
Database - GI:
Pilot GI datasets
PostgreSQL -> PostGIS datasets
Vector data into spatial indexed database tables
Relations between the databases on the different levels
GI possibilities based on the PostgreSQL - PostGIS technology (use of different coordination systems)
GI analysis with the PostGIS functions
NUTS levels
Place of the Roma population
Network of the settlements
Road network
Results of the applications
Possibilities
Digital elevation model
Orthophotos
Cadastre maps
Environmental datasets
Economical datasets
WMS services
SOAP based datasets
Aggregated and generalized data
Database - Social Data:
Alfanumerical datasets (Roma population area)
NUTS levels

Local administration information
Public services
Water
Electricity
Gas
Roads
Type of buildings
Garbage collectors
Population
Solution:
Web Application
Web Services to use the local datasets
Neutral data management with XML documents
Connection between applications
OGC standards
OpenGIS® Web Map Service
OpenGIS® Web Feature Service
OpenGIS® Web Coverage Service
Metadata standard (2008 INSPIRE)
XML – GML based applications
GI dataset integrations with Web Services
Conversion between XML documents

Webserver
Application server

Business logic
Communication with the server machines
Support of the Web Services
Administration of the database

Mapserver

Publication of GI datasets
Communication with mapservers (WMS, WCS, WFS)

Database Management System
Store of the GI datasets
Alfanumerical
Security: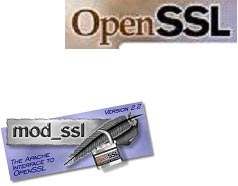 Security of web applications
Database security (DBMS)
User definitions
Web application user grants
https protocol
CA (Certificate Authority) -> web certificates
Connection:
Multilingual user interface
Multilingual database tables
UCS (Universal Character Set), the ISO-10646 standard
UTF-8 encoding
UNICODE documents
Support of national character sets
Support in the GI datasets (PostgreSQL support)
Support in the Web applications
XML support
Conclusion:
Support of the Ihlet Program and Ihlet Offices
Centre - Tisza River Basin Region level
Node Points - National
48 Local Offices - Association at NUTS4 level
Possible connection with the EU Fund, local government and land government with the open standards and IT technologies
GI based information system
Support of the NSDI, ESDI
Support of the national INSPIRE infrastructures
Standards
OGC (GML, WMS, WFS, WCS)
W3C (Web Services)
ISO (OGC, Metadata)
INSPIRE